NEW for FALL 2016: Enhanced edition of Ocracoke: The Pearl of the Outer Banks, with larger pages and photographs, 32 additional photographs, and signed by the author.

COMING 2017: North Carolina and Virginia books from 4 authors. Details to be announced.
Ocracoke: The Pearl of the Outer Banks, by award-winning coastal author Ray McAllister, has just been published in an "enhanced edition"  by Beach Glass Books this fall.
The $22.95 hardc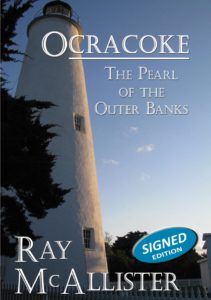 over features larger pages and larger photographs than the first edition, as well as 32 additional photographs and illustrations. Each copy of the limited edition also is signed by the author.
Ocracoke, originally published in 2013, is the fourth book in the author's North Carolina coastal series. Ocracoke offers a look at the history, people and continuing allure of the remote, white-sanded island that draws tens of thousands of visitors each year. New illustrations focus on Blackbeard, the Ocracoke lighthouse and 20th century island life, bringing to more than 150 the book's black-and-white illustrations. They also enhance the book's positions as one of the Outer Banks' best-selling memento books and gift books.
Like the author's other coastal books, Ocracoke is a winner of the North Carolina Association of Historian's Willie Parker Peace History Book Award. It is available at most Outer Banks booksellers, selected North Carolina and Virginia stores, and online sellers, including the author's web site, www.RayMcAllister.com.