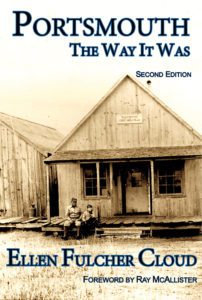 BACK IN PRINT! COMING MAY 20: Beach Glass Book is pleased to announce the republishing of  an Outer Banks Classic, PORTSMOUTH: THE WAY IT WAS . The award-winning 1996 book, written by the late ELLEN FULCHER CLOUD, is the true story of  "the Ghost Village of the Outer Banks." Portsmouth is being brought back in a special enhanced edition, with larger pages, more photographs, and a new foreword by RAY McALLISTER.
A WEEK OF ANNOUNCEMENTS:
MAY 19: With publication just one day away, here's the story of how PORTSMOUTH came to be. Read Ray McAllister's foreword to the book.

PREVIOUS:
May 13: Beach Glass Books is republishing PORTSMOUTH.
May 15: Publication Day signings May 20. Deidra Cloud Ramsey and Simona Rae Spickett, daughters of Ellen Fulcher Cloud, signing: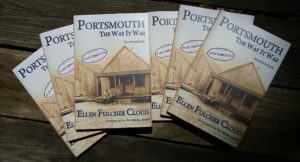 1. Before and after 10-11:30 a.m. meeting of the Friends of Portsmouth Island at N.C. Center for the Advancement of Teaching (former Coast Guard station), Ocracoke.
2. 1 p.m. at Books to be Red, 34 School Road, Ocracoke.
May 16: Shops selling PORTSMOUTH after publication: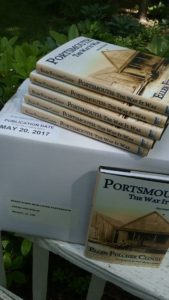 Books to be Red, Ocracoke
Buxton Village Books, Buxton
Island Bookstore (3): Duck, Corolla, Kitty Hawk
Ocracoke Preservation Society Museum, Ocracoke
Core Sound Waterfowl Museum and Heritage Center, Harkers Island
Scuttlebutt Nautical Books and Bounty, Beaufort
NOTE: New shops have been added. Check here.
MAY 17: Online pre-sales begin for PORTSMOUTH. Can't make May 20 Publication Day signings on Ocracoke? Can't get to OBX or Eastern N.C. shops? Order here with FREE shipping.
MAY 18: Here are online sellers of PORTSMOUTH we know of (remember, we encourage readers to buy at local OBX and NC shops, listed below).
RayMcAllister.com: With FREE shipping.
Amazon: Supposed to be available Publication Day, May 20. Not available, as of this posting.
Barnes and Noble: Book online now but can't be ordered until May 20.
UPCOMING:
May 20: Publication Day!
 *     *     *
FALL 2016: The enhanced edition of Ray McAllister's Ocracoke: The Pearl of the Outer Banks — with larger pages and photographs, 32 additional photographs, and signed by the author — is now available.
The new edition is available in hardcover format for $22.95.
Ocracoke, originally published in 2013, is the fourth book in the author's North Carolina coastal series. Ocracoke offers a look at the history, people and continuing allure of the remote, white-sanded island that draws tens of thousands of visitors each year. New illustrations focus on Blackbeard, the Ocracoke lighthouse and 20th century island life, bringing to more than 150 the book's black-and-white illustrations. They also enhance the book's positions as one of the Outer Banks' best-selling memento books and gift books.
Like the author's other coastal books, Ocracoke is a winner of the North Carolina Association of Historian's Willie Parker Peace History Book Award. It is available at most Outer Banks booksellers, selected North Carolina and Virginia stores, and online sellers, including the author's web site, www.RayMcAllister.com.