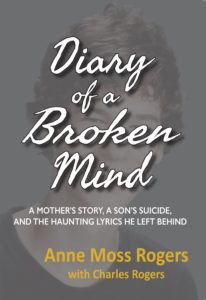 Beach Glass
FEBRUARY BOOK OF THE MONTH
Diary of a
Broken Mind
The great NEW print book adds eBooks THIS WEEK!

Day 1 eBook Launch: Kobo
Day 2: Amazon Kindle
Day 3: Google Play
Day 4: Barnes & Noble
Day 5: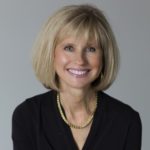 * As seen in The Richmond Times-Dispatch, Boomer magazine, and Richmond Family Magazine. *
     Beach Glass Books proudly announces the publishing of the powerful and important "DIARY OF A BROKEN MIND: A Mother's Story, A Son's Suicide, and the Haunting Lyrics He Left Behind," by Anne Moss Rogers, with Charles Rogers. Get your signed copy now with FREE mailing. Or get eBooks as they're relased, one seller a day, Feb. 10-14. DETAILS
*
---
Award-winning Senator's Son now on Audio

DEC. 3:

The Senator's Son is now available in Audiobook, read by actor John Witt. To hear a free sample and learn how to get the audiobook FREE with trial Audible membership, visit https://www.audible.com/pd/B0828M5JQD/
*
---

NEW!
Hatteras Island: Keeper of the Outer Banks published in an updated and expanded 2nd Edition!
Beach Glass Books is proud to be publishing this exciting new updated edition of the award-winning book for the 10th anniversary of the original, published by John F. Blair, Publisher.
Signed copies available with Free Shipping.
---
---
GET READY!
PUBLISHES APRIL 14
(Pre-Orders Accepted Beginning APRIL 11!)

The FUNNIEST
Outer Banks
book EVER!
UNCLE JACK'S
OUTER BANKS
*
---
The Magic of Topsail Island,
the award-winning children's book, is back in print in a new, enlarged edition. Pick up this enchanting tale by Lindsay McAllister Zarse, with enlarged drawings by acclaimed artist Brian Martin.
New printing now available! GET YOURS with FREE SHIPPING.
And don't forget Lindsay McAllister Zarse's other great children's books: MISSING! A Topsail Turtle Tale and Pirates on Friday. All with free shipping.
---
New and Acclaimed!
The Shocking Disappearance, The Celebrated Trial, and The Mystery That Remains a Century Later
BY CHARLES OLDHAM
Foreword by Ray McAllister
On Monday, February 13, 1905, eight-year-old Kenneth Beasley walked to the back of his school's playground and into the melting snow of the woods beyond. The son of a North Carolina state senator was never seen again. A year and a half later, a political rival was charged in what became one of North Carolina's biggest trials ever, receiving coverage up and down the East Coast. The eventual verdict and stunning aftermath would rip apart two families and shock a state … yet leave a mystery unsolved. Now Charles Oldham, attorney and author, has reopened the case, along the way also investigating the state's political, racial, lynching and liquor cultures. The result is an absorbing must read story.

"Fascinating … murky … The Senator's Son is local history at its finest." – DEAN KING, best-selling author
"The book is craftily written, deeply researched, and will stick to your hands like a lantern during this dark, raveled Southern tale of disappearance." – DAVID L. ROBBINS, best-selling author
"A vibrant, engrossing true tale … both educational and nearly impossible to stop reading." – Diane Donovan, MIDWEST BOOK REVIEW
---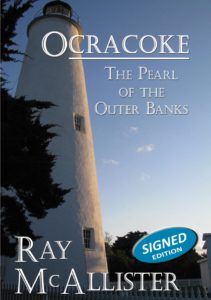 THE 300TH ANNIVERSARY!
On Nov. 22, 1718, Blackbeard was killed in "the bloodiest six minutes ever fought on Carolina waters." Get the story in OCRACOKE: THE PEARL OF THE OUTER BANKS!
Signed edition with FREE SHIPPING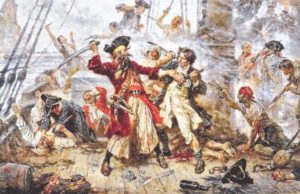 ---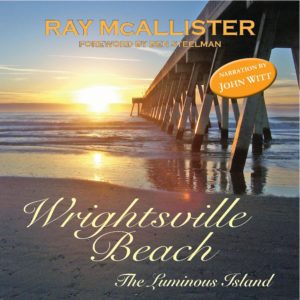 Wrightsville Beach now available in AUDIOBOOK, read by actor John Witt, for $19.95.
Or 2 ways to get it FREE:
Buy any two Ray McAllister print books and automatically get a free audiobook, or:
Sign up for a 30-day trial at Audible. Wrightsville Beach is yours to keep even if you cancel!
---
OCRACOKE LIGHTHOUSE AND THE OLD SALTS
BY ELLEN FULCHER CLOUD
Foreword by Ray McAllister
Companion book to Portsmouth: The Way It Was

Get Ocracoke Lighthouse and The Old Salts for just $21.00 with FREE shipping
---
You've Waited!
Flights of Fancy, Randy & Barb's Humor Book, Is Out!

Beach Glass Books is proud to announce the publication of Randy and Barbara Fitzgerald's book of humor columns, Flights of Fancy.

The book of award-winning columns includes a foreword by Ray McAllister, illustrations by Douglas Payne, and numerous family photographs. Get your signed copy at one of their signings, or ORDER NOW with FREE mailing.
See Randy and Barb:
Tues., Oct. 1, 10:30 a.m., Bon Air Baptist Church, 2531 Buford Road, Richmond, Va., Primetimers Club, optional lunch at noon ($6).
---
Wrightsville 10th Anniversary Edition launches!

The expanded and enhanced edition of the award-winning Wrightsville Beach: The Luminous Island was published with a kickoff event at the Wrightsville Beach Museum of History. For more on the book, or to order a copy, CLICK HERE.

NEW! Enhanced "WRIGHTSVILLE BEACH" with larger pages & twice pictures, new foreword by Ben Steelman, new author afterword
Just $22.95 with FREE SHIPPING!
---
News about Ocracoke!
MIDWEST BOOK REVIEW BOOKWATCH, September 2017:
"The release of [this] 'enhanced edition' … allows for the addition of numerous photos and the enlargement of others in a classic … McAllister's history captures the atmosphere and evolution of the island in such a way that even non-residents and those relatively unfamiliar with Ocracoke will find it a lively, compelling read." (FULL REVIEW)
Just $22.95 with FREE SHIPPING! Order here
 *     *     *
---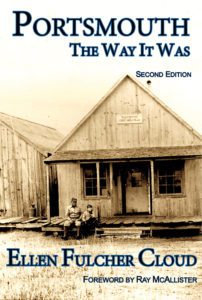 BACK IN PRINT! Beach Glass Book is pleased to announce the republishing of  an Outer Banks Classic, PORTSMOUTH: THE WAY IT WAS. The award-winning 1996 book, written by the late ELLEN FULCHER CLOUD, is the true story of  "the Ghost Village of the Outer Banks." Portsmouth is being brought back in a special enhanced edition, with larger pages, more photographs, and a new foreword by RAY McALLISTER.
---
NOW AVAILABLE: The enhanced edition of Ray McAllister's Ocracoke: The Pearl of the Outer Banks — with larger pages and photographs, 32 additional photographs, and signed by the author — is now out.
The new edition is available in hardcover format for $22.95.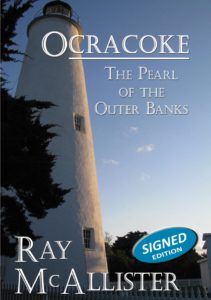 Ocracoke, originally published in 2013, is the fourth book in the author's North Carolina coastal series. Ocracoke offers a look at the history, people and continuing allure of the remote, white-sanded island that draws tens of thousands of visitors each year. New illustrations focus on Blackbeard, the Ocracoke lighthouse and 20th century island life, bringing to more than 150 the book's black-and-white illustrations. They also enhance the book's positions as one of the Outer Banks' best-selling memento books and gift books.
Like the author's other coastal books, Ocracoke is a winner of the North Carolina Association of Historian's Willie Parker Peace History Book Award. It is available at most Outer Banks booksellers, selected North Carolina and Virginia stores, and online sellers, including the author's web site, www.RayMcAllister.com.
---
2020 Beach Glass Books
Affiliated with Ray McAllister Books LLC