---
JUST OUT!
Get your signed copy with FREE shipping
By mail: Send $26 to Ray McAllister Books, Box 72672, North Chesterfield, VA 23235.
Or purchase through your local store, Amazon, Barnes & Noble, eBay, or IndieBound.
---
CLICK for Signings and Appearances
NEXT: Barnes & Noble, New Hope Commons, Durham, NC, 1-4 pm Sun., Oct. 28.
THE SENATOR'S SON
The Shocking Disappearance, The Celebrated Trial,
and The Mystery That Remains a Century Later
BY CHARLES OLDHAM
Foreword by Ray McAllister
On Monday, February 13, 1905, eight-year-old Kenneth Beasley walked to the back of his school's playground and into the melting snow of the woods beyond. The son of a North Carolina state senator was never seen again. A year and a half later, a political rival was charged in what became one of North Carolina's biggest trials ever, receiving coverage up and down the East Coast. The eventual verdict and stunning aftermath would rip apart two families and shock a state … yet leave a mystery unsolved. Now Charles Oldham, attorney and author, has reopened the case, along the way investigating not only it but the state's political, racial, lynching and liquor cultures. The result is an absorbing must read story.

"Fascinating … murky … The Senator's Son is local history at its finest." – DEAN KING, best-selling author
"The book is craftily written, deeply researched, and will stick to your hands like a lantern during this dark, raveled Southern tale of disappearance." – DAVID L. ROBBINS, best-selling author
"A vibrant, engrossing true tale … both educational and nearly impossible to stop reading." – Diane Donovan, MIDWEST BOOK REVIEW.
---
SIGNINGS & APPEARANCES
2018
Downtown Books, Manteo, N.C., 5-7:30 p.m. Friday, Oct. 5.

Duck's Cottage, Duck, N.C., 9-11 a.m., Saturday, Oct. 6.

Barnes & Noble, New Hope Commons, Durham, N.C., 1-4 p.m. Sunday, Oct. 28.
Lee County Libraries, Sanford, N.C, 6:30 p.m., Thursday, Nov. 15.
Museum of the Albemarle, Elizabeth City, N.C., 1 p.m., Sat., Nov. 17.
Barnes & Noble, Greenville, N.C., 6-8 p.m., Thursday, Dec. 13
Barnes & Noble, Carolina Place Mall, Pineville, 1-4 p.m., Saturday, Dec. 15
Please check back frequently as signings will be added throughout the fall.
---
Visit the Author's Website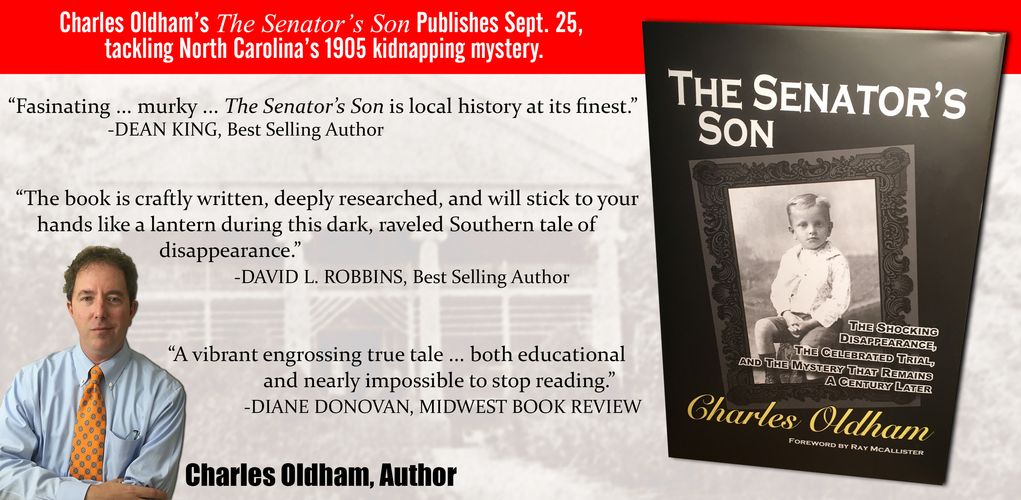 ---